Cabin Crew Initial Training  (Attestation)
What?
What will I learn?
The following modules will be covered:

General Aviation Knowledge, Regulations, Cabin Crew duties and responsibilities
Communication
Introductory CRM
Passenger handling and cabin surveillance
Aero-Medical Aspects and First Aid
Dangerous Goods
General Aviation Security
Fire and Smoke
Survival and Water Survival
Duration of this Course is 11 training days (Excluding off days in between).
Will there be a test or exam?
Yes, each day will start with a test containing questions about the subject taught the previous day. This is to give you an idea of your level of progress.
3 written exams will be conducted throughout the course which must be successfully completed.

What if I fail an exam?
Oops . . . Don't worry you can re-take the failed subject again. If required, our instructors are available for remedial study and coaching.
What are the training costs?
The total costs for this 11 module, theoretical, hands-on and practical training, including your attestation are €2550,- Ex. VAT. (€ 3085,50 Incl. VAT)
*Accommodation is not included, however, feel free to contact us as we have more information regarding several hotels in the area.
Who?
Who can join this training?
Anyone who:
Is able to swim
Can read, speak, understand and write English well
Is at least 18 years of age
Why?
Why Sky Professionals?

We are one of the very few ACCTOs (Approved Cabin Crew Training Organisation) in the Netherlands certified by the Dutch CAA (Civil Aviation Authority).
Industry-Experienced Instructors: Learn from the best in the business! Our team of professionals will guide you every step of the way, sharing their knowledge and providing valuable insights into the world of aviation. Gain real-world perspectives and learn from their years of experience.
Get Hands-on Experience in a realistic training environment. Practice handling inflight incidents, managing challenging scenarios and customer interactions in our state of the art Mock-Up. Build confidence and professionalism.
Our training program is fully compliant with the EASA (European Union Aviation Safety Agency) rules and regulations.
Where?
Our Training Center is conveniently located at Eindhoven Airport in the Netherlands, next to the terminal building.
Classroom with integrated Mock-up for small groups of maximum 12 students.
Easily accessible by Air, Car and Public Transportation.
Hotel accommodation opposite the Sky Professionals building (1 minute walk)

When?
Our next course starts 18 October 2023 
Secure your spot here : "Embark on Your Flight to Succes!"
Did you know?
Medical Assessment
You can only start flying duties with an airline when your Medical is in the pocket.
This means you have to be assessed as physically and mentally fit by an Aero Medical Center/AeMC.
Guess what?
Sky Medical Center is an AeMC and happens to be our neighbour, how very convenient!
You can plan your Medical Assessment prior to/or following your Cabin Crew Initial Training.
Get off to a flying start and book your Medical.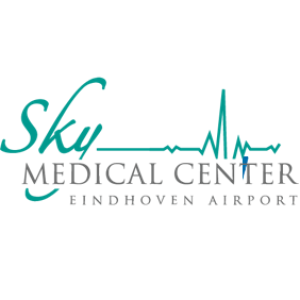 Please contact us for more information
click here