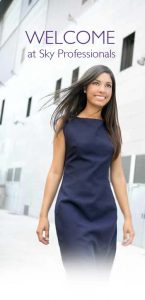 Corporate Flight Attendant
At this moment Sky Professionals has no vacancies…. However, we are always keen to meet new talented aviation professionals who are an asset to our team.
Job qualifications:
As a Sky Professionals Corporate Flight attendant you have an outstanding level of culinary- and customer service and you know when to be "invisible" or when to socialize with the guests on board. You distinguish yourselve by giving a personal touch and make our customers feel at home, carefully watching their preferences and personal requests. You have a natural charm and a passion for being a hostess.
Sky Professionals' requirements for Corporate Flight Attendants:
Sex: Female;
Age: 25 – 45;
Hight: max. 1.80meters
Languages: Native Dutch and English fluently. Additional languages is an advantage;
Residence in the Netherlands;
High standard of personal appearance;
Previous experience as a Flight Attendant is a must;
Corporate Flight attendant / VIP Air Hostess experience is an advantage;
Good communication skills;
Excellent customer service skills;
Affinity for gastronomy;
Adaptable to different cultures;
Discreet at all times;
High availability;
Being able to operate well in a stressful and always changing environment;
Being able to work both independently and as a team player;
Valid passport;
Valid driving license and own transport;
Match our core values; Loyalty, Flexibility, Professionalism, Dedication and Humor.
Do you have what it takes to become a Corporate Flight attendant and do you match core values?
Please send your CV and covering letter accompanied by at least two representative pictures (one close up, one full size) to the attention of
Mr. van Hout at info@skyprofessionals.com